The late Frank Golden who I learned a lot from previously put together a great tutorial on Clonezilla a while back and there has been a few changes that I felt required an updated tutorial. Frank patiently taught me how to use Clonezilla and I use it all of the time. This tutorial will be an augment of Frank's original tutorial which can be found HERE.

In this tutorial I am using Clonezilla's latest stable build 1.2.12-67 off of Parted Magic build 6-27. You can run Clonezilla off of Parted Magic (download latest build here )or as a stand alone iso. Clonezilla .iso can be downloaded from HERE. This tutorial will only cover creating a clone of a partition and not the entire hard drive. The partition numbers and locations used in this tutorial are unique to my laptop. It's important that you substitue your partition location and desitination of the image location of your machine. The example I will be using through this tutorial is the steps I take when performing a clone of my 40 GB ext3 Arch Linux partition but will work just fine if you are wanting to clone an NTFS partition with Windows on it.


My current Arch Linux partition is formatted to Ext3 and is 42.9 GB in size, 16.3 GB which is used space on partition sda5 (Clonezilla only copies the "USED" space) This means I can restore my Arch linux image to another hard drive as long as the partition I restore it to is exactly 42.9 GB in size.
This tool is also great if you bork something up, just re-image the partition and you are back in business in a few moments. Trust me...... I have had my fair share of borking up my Arch OS and this has saved me countless times.

Now let's get started. Choose the default on the first screen. Just hit "Enter"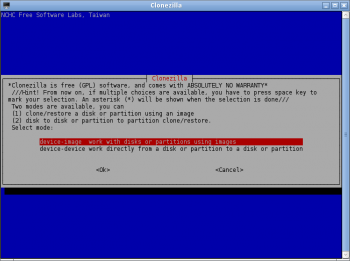 On the second screen, you will use the default as well. "Enter"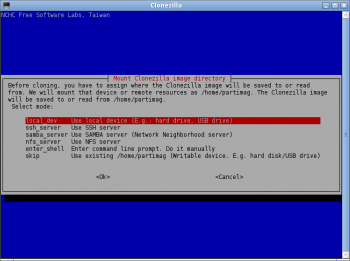 The next screen will be asking you if you want to create a mount point on a USB external hard drive or USB flash drive. This will be the destination of the image. If your external device is not already plugged in, plug it in, wait 5 seconds and hit enter.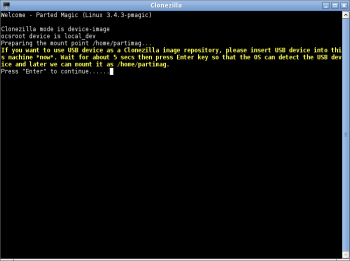 The next screen will provide you a list of partitions recognized by Clonezilla. Choose the partition you want Clonezilla to mount. This is the destination where you want to save your image.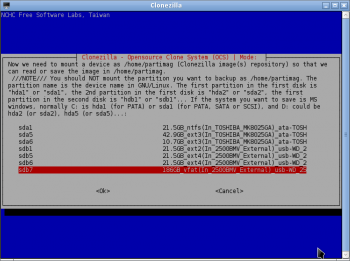 The next screen confirms the mount. Click "Enter"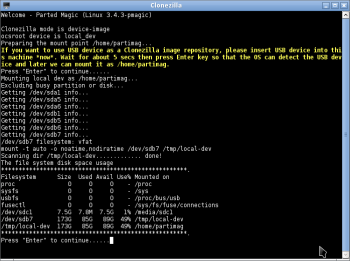 The next screen will ask you to choose a mode. Choose "Expert" then hit enter
Edited by ichase, 01 August 2012 - 06:52 PM.
at Ian's request, the red banner was removed since he has finished the tutorial. ~ Bambi Also, he requested that I remove Frank's quote as it is no longer relevant to the Clonezilla process ---Securitybreach 7/30/12 @17:44