Well I just preordered the
new
Google Nexus 7 (8gb) tablet. They will start shipping in 2-3 weeks with 2 day default shipping:
Quote
Google Nexus 7
Processor: Nvidia Tegra 3 -

1.36GHz quad-core
OS:

Android 4.1 Jelly Bean
Display:

7.0 touchscreen display

1280 x 800

pixels, 216 ppi
Multimedia:

loudspeaker /

Audio-jack 3.5mm /

microphone
Storage/Ram

8GB build-in memory/1GB RAM
Connetivity:

Bluetooth 3.0 /

NFC for Android Beam /

Wi-Fi 802.11 bgn /

USB 2.0
Dimension

:

198.5 x 120 x 10.45 mm
http://gadgetunlimit...pecs-price.html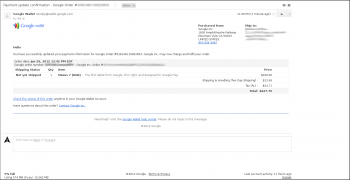 The reason why I got the 8gb model instead of the 16gb is because I have 32gb on both my phone(Atrix 4G) and tablet(HP Touchpad) but I only use about 2gb of the storage for wallpapers and some pdfs. Other than that, I use Pandora or Google Music for streaming music and I can ssh to my main rig for all the media I desire.
Edited by securitybreach, 01 July 2012 - 02:09 PM.
Spec formatting