Quote
GIMP is
Free Software
, but even before this, it is people: the ones who create it, the ones who create with it… We don't have accurate statistics and we take pride on not gathering your data. Yet we know (through other websites that have logged partial statistics over the years) that this is a widely used piece of software, by millions of people around the world. So wouldn't it be neat to meet some of the individuals who make this project come alive?
Some people think there's a huge company behind GIMP. This is not the case. GIMP has always been developed by a handful of random people scattered around the world. Most of them are volunteers and none of them work on it full-time. As an insider myself, I've wanted to launch a series of interviews with the many awesome people I've met since I started contributing. So who better to start with than our own benevolent dictator, GIMP maintainer, and the biggest code contributor: Michael Natterer, aka "mitch".
This interview was held on Friday, February 3, 2017 at around 3AM in front of a fireplace and after a day of hacking at
Wilber Week
. With us were several team members, including Michael Schumacher (schumaml (S)) and Øyvind Kolås (pippin (P)), who also asked questions.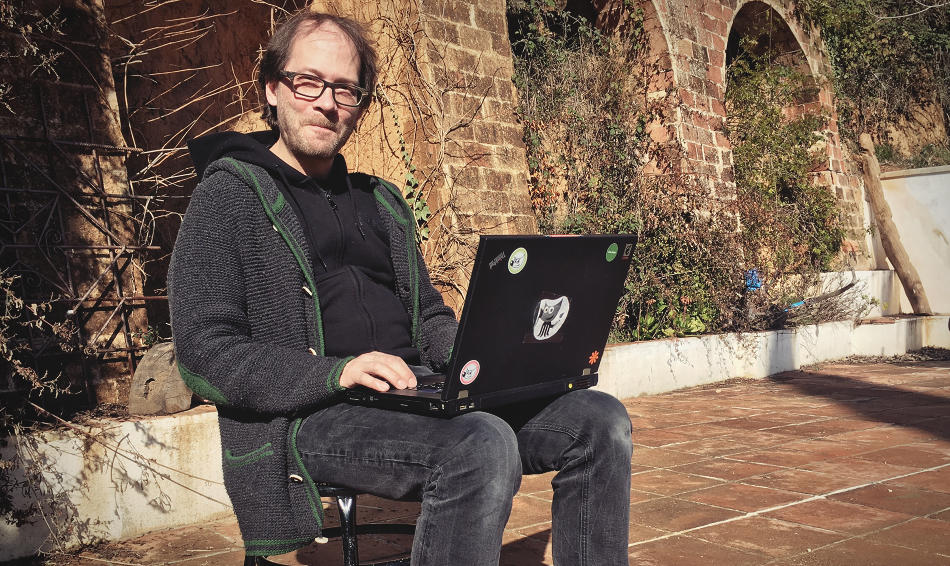 Mitch. The man. The myth. The legend. The reason your commit probably got reverted.
Jehan: Hello Mitch! In a few words, what's the close future of GIMP?

Mitch: In 2.10, there is the GEGL port. Then the GTK+3 port immediately after, which will go as fast as possible. We don't plan many features during the GTK+3 port.

J: What are your preferred features of 2.10?
M: High bit depth, on-canvas filter previews… I don't actually remember the features of 2.8 [to compare] because I never use it.
J: You use 2.10 instead?
M: Yes.
J: Do you use GIMP often?
M: Mostly for testing what I implement, and also for making postcards I sell in my family business. That's the only thing I use it for.
A maintainer
J: How did you start hacking GIMP?
M: There was this code that saved the user-assigned keyboard shortcuts for menu actions. The code had an escaping bug where you couldn't have a hyphen as an accelerator. So I wrote code for escaping the string. That was my first GIMP patch in 1997 or 1998.

J: How did you become the maintainer?
M: I killed the previous maintainer. He is now in my cave in boxes............
https://www.gimp.org...imp-maintainer/