Scot's Newsletter Forums (SNF):
Forum Rules
Last Updated: April 6, 2005
Warning: Participating in the Scot's Newsletter Forums may cause increased knowledge, improved computer skills, better troubleshooting ability, and an all-around warm and fuzzy feeling knowing you helped someone.
Even so, there are rules and we ask you to respect them:
Profanity, Vulgarity, and Personal Attacks
1.
Please mind your language. Don't post anything you wouldn't want your parents or children to see. Please be aware that children 13 and younger are allowed to post with
parental consent
. This is a "family forum." Vulgar profanity is not allowed. You can get away with only the lightest of "swear" words around here.
2.
Exercise good judgment when choosing user names, avatars, and signatures. Inappropriate content will be removed. Letting your "freak flag fly" is okay. We just may not want to learn all the details.
3.
Do not post messages or link to other sites containing material that is obscene, profane, vulgar, sexually-explicit, defamatory, mean-spirited, threatening, or in violation of any laws. Think maybe you crossed the line? Chances are good, then, that you did. Members can edit and even delete their own posts. Exercise your right to "think twice" about something you may have posted thoughtlessly. If you don't exercise that right, we'll do it for you.
The spirit of this rule is about good taste and not embarrassing or alienating other people. Just because something is funny doesn't mean it's in good taste, is not embarrassing or alienating. Use that as your guide.
If it really doesn't harm anybody, then it's all in good fun and we'll let it slide.
But be advised, there are gray areas, and our moderators are sometimes faced with tough decisions. They do their best. Please have the good grace to support them in the decisions they make and not make a big stink over something that really wasn't important to begin with.
4.
Scot's Newsletter Forums has zero tolerance for inconsiderate or mean people. Personal attacks and insults to others will not be tolerated. While it is acceptable to challenge others' points of view and opinions, please do so only respectfully and thoughtfully.
Any member who belittles or threatens anyone on these forums (via forum post, PM, or email) will be warned or banned.
Copyrights, Illegal Material, and Links Offsite
5.
Do not ask for, offer to supply, or post links to, copies of commercial software, MP3s, movies, CD Keys, Product Keys, Serial Numbers, etc. or other intellectual property for which you do not hold the copyright. Do not ask for or post information about or link to anything unlawful.
This includes but is not limited to copies of pirated commercial software, commercial music files, movies, and other intellectual property.
Do not post any information, or link to any site that contains information, intended to violate the Terms of Service or End User License Agreement of any service, product, or application. Do not request or provide password hacks or cracks.
5a.
Do not post entire copyrighted articles or images from elsewhere on the Internet; post a link to the work instead. It is acceptable to quote other people's work so long as you follow these mandatory rules:
Credit the author(s) by name(s)

Include the title of the work

Include the date when the original work was published

Include a link to the entire work

Reprint only part of the article (as governed by the Fair Use laws). SNF guidelines dictate maximum length of quotations this way: Quote only a few paragraphs of an entire work, and not more than 20% of that work, whichever is shorter. Most quotes should be held to a few sentences or a single paragraph.
Any posts containing infractions may be modified or removed.Note: It is perfectly acceptable to post links to screen shots of software (that you or someone else made), such as Windows dialogs, or any other software you're discussing. See Rule 8 for more information about posting images.
6.
Do not include hyperlinks to malware, spyware, or browser-hijacking sites within your posts. It's all too easy to do this inadvertently.
When posting Hijack This logs, for example, the logs include live links to malware sites detected by the utility -- making it possible for readers to accidentally click one of those links and infect their computers. If you absolutely must post a URL to something nasty, please place these types of URLs with
CODE brackets
, like this:
[/b]http://forums.scotsnewsletter.com[b]
- The old way with just
[ ]
does not work now. By putting it in the
CODE brackets
it keeps the URL from being "live," or clickable. In the Editor, CODE Brackets are denoted with
< >
icon above.
Keep in mind that people often click things without reading them thoroughly; posting a live link as a warning to others may be well intentioned, but it's ultimately irresponsible.Posts containing links to malware, spyware, browser-hijacking sites and the like may be edited or summarily removed at the discretion of our moderators. Please be careful
.
Selling
7.
Sales of any sort by professionals is not permitted in the Scot's Newsletter Forums.
Do not post for-sale advertisements, solicitations for business, chain letters, or pyramid schemes.
Any posts of an apparently professional commercial nature will be removed.
It is acceptable to include a description of and a link to your place of business in your SIG
as a way to help identify who you are to other members.
But if your SIG, the web page at the end of a link in your SIG, one of your messages, or a link in your messages, is directly selling a product on a professional basis (meaning, for example, that you have more than one of the product to sell), you will be asked to remove your SIG and you could be banned from the forums.
On the other hand, members are always encouraged to post links to commercial products to which they have no business connection (and for which they will receive no remuneration on sale of) when they're making a personal recommendation to other members.It is also permissible to offer your own legally purchased, used-by-you equipment or software to other members on a casual, one-off basis.
Please don't set up shop with used stuff though, and sales of non-computer-related items is not permitted at all without approval of a moderator.
Images in Posts
8.
Scot's Newsletter Forums
does now
permit uploading of images with posted messages, however the images are limited in size to 50KB.
Still, the best way to show other members something is to link to it. To do that, paste a Web URL (or hyperlink) into your message. No encoding is required. By handling images in this way, you let people choose whether to click or not.
It is also possible to display a screen shot hosted on another server by using the forum software's image tag and placing a URL in it. It should be done only when showing a picture is necessary to getting your important point across. Be considerate of people who have slower Internet connections. An image displayed within a message on Scot's Newsletter Forums should be no wider than 480-540 pixels. And if you can make the image smaller, please do.
One of these approaches requires your image to be hosted on another Web server. If you do not have access to another Web server, but would like to link to or display an image in a post, please contact a forum moderator for help. While we can't promise to make this possible in all cases, we are working on ways to make it easier.
Dynamic Images and Scripts
9.
Dynamic images have been disabled for use in Scot's Newsletter Forums. No dynamic images are allowed. No scripts (i.e., PHP) may be used as a means of working around the spirit of this rule. If this type of scripting is being used by a member, the image will be removed and a PM will be sent to the member letting them know why it was removed. After this initial contact, if a member continues the use of dynamic images and/or scripts, it will result in a warning and/or banning at the discretion moderators. Dynamic images or scripts in use before this rule was instituted must be removed immediately.
Avatar Limitations
10.
Avatars (uploaded only) are allowed, but limited to the following conditions:
Type: .gif, .jpeg, .jpg, .png

File size: 50 KB max

Dimensions: 100w x 100h max

Dynamic images are NOT allowed as per Rule # 9

Compliance with all other set forum rules.
Although animated images are acceptable, please be aware that some people are turned off by extremely active or repetitive animations. You may be asked to alter or remove animated images that people find offensive.
Signature Limitations (Text and Images)
11.
Please keep the length of Text Only signatures within the following parameter:
A maximum of five single-spaced lines of text. (A line = the width of the SIG text input box.)
If you incorporate an image into your signature in conjunction with text, please do so within the following parameters:
Images must comply with Rule #12.

A maximum of three single-spaced lines of text. (A line = the width of the SIG text input box.)
Also, please do not post your system specifications in your signature. There is a designated area in your account profile for that information.
(See "A Note About Privacy" below.)
.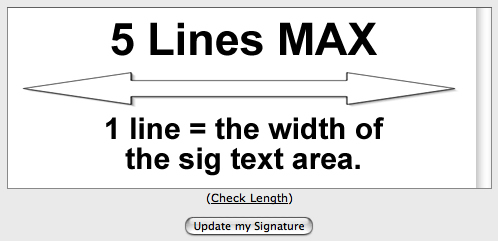 Tip:
If you want a long quote in your signature, you may want to use the "size" tags to make it size "1" so that you can fit more text on each of the five lines you're allowed.
12.
Images in signatures are permitted, but please be considerate of other forum members. Large SIGs are considered rude by many because they require additional scrolling and require more bandwidth to load. Text-only SIGs are preferred. The use of images in SIGs is limited by following rules:
Only one image is allowed.

Permissible file types: .gif, .jpeg, .jpg, .png

Maximum file size: 50K

Maximum dimensions: 300 pixels wide by 100 pixels high

Dynamic images are NOT allowed.

Compliance with all other forum rules.
A moderator may contact you if your SIG falls outside of the bounds or spirit of any of these rules.

Note to dial-up members and anyone who would prefer to view fewer images: You have the power to disable the display of signatures, avatars, and images in posts. You'll find these settings in My Controls > Board Settings > Board Display Settings. Unfortunately, there are trade-offs with two of these controls. Turning off signatures turns off not just images in signatures but all text signatures too. Turning off images in posts also turns off smilies, the little icons connoting attitudes and emotions that often help explain the meaning behind people's words.
For more information on understanding and configuring the forum software, please consult the
Scot's Newsletter Forums Help center (will repost the link which has changed)
User Names and Registration
13.
Please register only one user name and use that one name every time you visit or post in the Scot's Newsletter Forums. If you have difficulty registering or validating a username, please contact the
Scot's Newsletter Forums Webmaster
for help. If you post under two different user names, you will be warned and/or summarily banned from Scot's Newsletter Forums -- at the discretion of the moderators. Creating multiple user accounts (especially on the same day) or flooding the board will be considered a denial-of-service attack on the forums and also will be reported to your ISP.
Accuracy of Information
14.
Scot's Newsletter Forums and Scot's Newsletter cannot guarantee the accuracy or truthfulness of postings. You agree that the newsletter, its forums, and any person associated with the forums (including members, moderators, and administrators) cannot be held legally responsible for any of the content they contain. We cannot and do not pre-approve or verify the information anywhere on Scot's Newsletter Forums. Posts in these forums reflect only the views of their authors. But, if you see something that you believe to be wrong or misleading, please bring it to the attention of any of our moderators.
We Reserve this Right
15.
While this is not a power we expect or want to use often, Scot's Newsletter Forums and any of its designated administrators and moderators reserve the right to edit or remove any post, at any time, for any reason. If you feel your post was edited or removed unjustly, please do these things in this order:
A. Read the Forum Rules, all of them, in full. Consider whether there's an honest reason why your post was edited or removed.
B. If you still feel you have a beef, contact the Scot's Newsletter Forums Webmaster with a calm, detailed, reasoned message containing a link to the the thread or post in question and an explanation of the issue. Rants will be laughed at and then ignored.
A Note About Your Privacy
16.
The Scot's Newsletter websites, including the Scot's Newsletter Forums (SNF), are not collecting any information about you at any time for any commercial purpose. What's more, we go to great lengths to protect your privacy. One of the ways SNF protects you is by requiring a confirmation of all member registrations. In that way, we're protecting you against the possibility that someone who knows your email address might represent themselves as you or turn on features that would send you unwanted email. This registration confirmation requirement slows down the registration at SNF, but frankly, we don't care. Privacy is more important than flashy numbers.
Cookies are employed by the forum software to enable several convenience features. They are not absolutely required to access Scot's Newsletter Forums. But there is nothing about them that's tracking you for any other purpose than helping to set your preferences. And their use greatly enhances the usability of the forum software. Because of those things, we recommend that you turn on the use of cookies in conjunction with SNF.Please consider the information you enter into your User Profile carefully (in My Controls > Edit User Profile).
The board software hides your email address so that you won't be made the target of spam. Other registered members can use the board software to send you an email message, but they won't know what your email address is. But if you respond to that person's message, you are revealing your email address. It's also possible to prevent anyone from sending you an email at all from the Scot's Newsletter Forums by choosing an option that disallows sending of email messages to you by other members (in My Controls > Email Settings).
Other private information about you -- even your birthday -- could be used by those who might be seeking to steal your identity. While we feel this is an unlikely scenario, it's better to be safe than sorry.
SNF works hard to ensure your privacy -- and in particular, with respect to your email address, which is the only significant user information required. But Scot's Newsletter Forums can't be held liable in the event that the forums experience a security breach or there's a bug in the forum software. The bulletin board software used by SNF is Invision Power Board, supplied by
Invision Power Services
(IPS). Every effort is made by the administrators to install security patches and updates as soon as IPS releases them.
The Scot's Newsletter Forum Rules are subject to change and the current version is available on every page on the Scot's Newsletter Forums site. Usage of the forums indicates that you have read, understood, and accepted these rules. Members who violate these rules may be blocked from future access to some or all of the forums either temporarily or permanently.
Edited by LilBambi, 15 April 2012 - 09:20 AM.
formatting become bunched with no real spacing which is now corrected. Post images have changed with Forum Upgrade which is reflected.