I used this windowmanager briefly when I first installed Slackware back in 2004 as it was one of the options OOTB. Amazing enough, WindowMaker has been around since 1997. It is great that they restarted the development of this great lightweight environment. I may have to install it on Archlinux and play around:
QUOTE
"A new team of developers have recently picked up development of
WindowMaker
, and they've added many new features, including improved support for the freedesktop standard menu layout and Mac OS X style application and window switching from the keyboard, culminating in a new release, 0.95.2. A
basic changelog
is available on the newly redesigned website."
http://tech.slashdot.org/story/12/02/16/17...ease-since-2006
QUOTE
Window Maker is a window manager (WM) for the X Window System. It is designed to emulate the NeXT user interface as an OpenStep-compatible environment, and is characterized by low memory demands and high flexibility. As one of the lighter WMs, it is well suited for machines with modest performance specifications.
https://wiki.archlinux.org/index.php/Window_Maker
Also, here is a screenshot from the WindowMaker website although it looks quite old and I imagine it looks more polished now. The one major part of windowmaker are the tile widgets you see on the side of the screen that can be launchers or interactive widgets: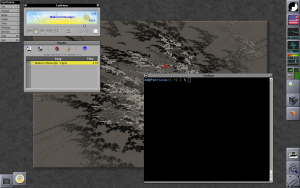 http://windowmaker.org/screenshots/NeXT-Retro.png